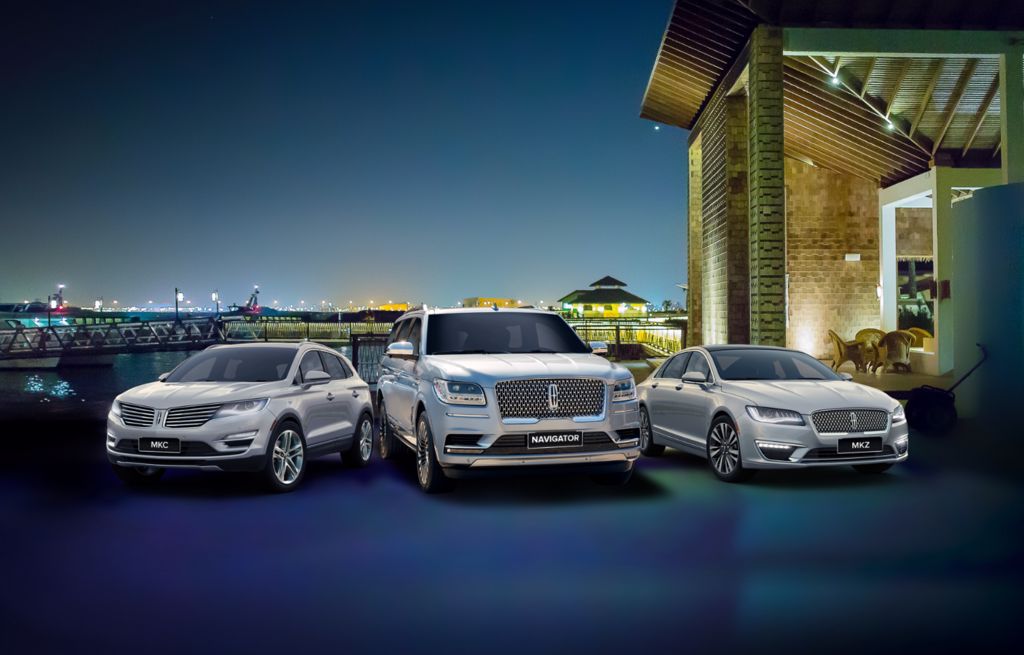 Extraordinary Lincoln Now With Exclusive Delights
Lincoln luxury is renowned and has a huge fan following. Connoisseurs of inspiring automotive luxury will agree that Lincoln has throughout the years left an indelible mark on its owners with all that it has to offer.
Now to take these exceptional ownership experiences with a Lincoln to a whole new level, Lincoln Oman has unveiled exclusive delights.
According to a Spokesperson from Lincoln Oman, "A Lincoln is literally a synonym for luxury. Since its reintroduction, Lincoln has steadily witnessed an impressive list of satisfied customers. This due to its distinctive aspects like design, luxury, features and technologies. Now with special offers like Cash Gift from RO 900 to RO 9,000, Service: 5 Years /100,000 KMS, First Year Registration and First Year Comprehensive Insurance (Oman Only), enthusiasts can easily fulfil their wish of adding a Lincoln to their luxury experiences."
Terms and Conditions apply. Enthusiasts who wish to know more about the terms and conditions are encouraged to visit the Lincoln showroom at Wattayah.
Discover the OffersBook a Test Drive
In Oman Lincoln has in its range:
Lincoln MKC – the luxury crossover is more than just a small premium utility vehicle. It is performance-minded and technologically savvy. Making it an ideal choice for young go-getters. The MKC is an absolute head-turner and empowers its owner to make a lasting impression be it at corporate events or personal appointments. The Lincoln MKC features a standard 2.0-liter four-cylinder EcoBoost turbocharged engine delivering a competitive 253 net PS @ 5,500 rpm and 389 N.m of net torque @ 2500 rpm. Available Intelligent All-Wheel Drive evaluates road conditions in milliseconds, compensating for and transferring power between the wheels to provide a confident grip and solid response on varying surfaces through differing weather conditions.
Lincoln MKZ – The all new Lincoln MKZ is designed to appeal to those who are looking for something different in the luxury market. From placement of features to focus on spacious interiors, the MKZ is perfect for arriving in style, wherever you go. The new MKZ is a driver's car with the desire to excite, and the power to do it. Equipped with one of the most powerful engines Lincoln has ever produced – the all-new 3.0-liter GTDI V6 – MKZ puts 370 net PS and 570 Nm of net torque at your disposal, all made possible by twin-turbocharging, direct-injection technology. The MKZ is equipped with an intelligent all-wheel drive (AWD) that constantly balances torque between the front and rear wheels, typically before wheel slip can even occur. MKZ puts the control of a manual shift at your fingertips with its 6-speed SelectShift® automatic transmission. Just tap the steering wheel-mounted paddle shifters, and you can change gears if you choose.
Lincoln Continental – Now in its tenth generation, the Lincoln Continental blends meticulous craftsmanship and technologies designed to create better drivers and provide passengers with a more relaxing and entertaining environment inspired by first-class travel. Amenities throughout subtly transform the ordinary into extraordinary, from a segment first innovative door latching system that effortlessly opens the door, to an available expansive twin-panel moonroof that transforms the interior, creating a feeling of airy spaciousness and emphasising the understated, quiet luxury.
Lincoln MKX – Lincoln MKX combines thoughtful and elegant design with a safe, effortless ride and a warm, tailored experience. Leading the engine choices for the MKX is the advanced 2.7-litre twin-turbocharged EcoBoost V6. It is paired to a six-speed SelectShift® automatic transmission with push-button shift. The MKX produces 340 Net PS and 542 Nm of torque. Intelligent All-Wheel Drive is standard on the vehicle.
Lincoln Navigator – A twin-turbo V6 engine produces 450 horsepower providing smooth power whenever you need it, delivered through a 10-speed transmission. The All-New Navigator is designed to be intuitive and easy to use. The interior layout is clean and uncluttered, with a simple, soothing ambience. Advanced technology allows the driver to effortlessly adjust the vehicle to make driving easier or more enjoyable – in any weather or terrain.
In Oman, Lincoln vehicles are brought to you by Arabian Car Marketing Co. LLC. Please log on to www.lincolnoman.com, or www.facebook.com/lincolnoman or www.instagram.com/lincoln_oman for the latest news, test drive requests and the latest press releases.
Latest News